CHAIRPERSON, BOARD OF TRUSTEES
Ruth Davis is a career member of the Senior Foreign Service, Career Ambassador (May 1, 2002). She is presently on detail from the Department of State serving as Distinguished Advisor for International Affairs at Howard University in Washington. Previously, she served as Director General of the Foreign Service and Director of Human Resources from June 1, 2001 to June 30, 2003. Before assuming the position of Director General, Ambassador Davis was Director of the Foreign Service Institute from July 1997 to June 2001. Prior to this assignment, she was the Principal Deputy Assistant Secretary for Consular Affairs (December 1995 – July 1997). Before joining the Bureau of Consular Affairs, she was Ambassador to the Republic of Benin (December 1992 – November 1995). Following her assignment as Consul General in Barcelona, Spain, (1987-1991), Ambassador Davis was a member of the 34th Class of the Senior Seminar (1991-1992) which is the highest level of executive training offered by the US Government.
Ambassador Davis joined the Foreign Service in 1969 and was assigned as Consular Officer in Kinshasa, Zaire (1969-1971). Specializing in consular affairs, she also served in Nairobi, Kenya (1971-1973), Tokyo, Japan (1973-1976) and Naples, Italy (1976-1980). She returned to the United States as a Pearson Fellow working as Special Advisor for International Affairs for the Washington, DC Municipal Government.
Ambassador Davis' previous assignments in the Department of State include Senior Watch Officer in the Operations Center (1982-1984) and Chief of Training and Liaison in the Bureau of Personnel. While in the latter position, she was invited to attend the Aspen Institute in Colorado, an honor generally reserved for officers with the rank of Ambassador. Ambassador Davis was assigned to the NATO Defense College, but declined in order to assume the position of Consul General in Barcelona.
MESSAGE FROM AMBASSADOR RUTH A. DAVIS
CHAIRMAN EMERITUS & MEMBER OF EXECUTIVE BOARD
Satish Mehtani is the Founder, first Chairman, and first President and CEO of IMMUSA. After successfully presiding over IMMUSA for little over 25 years, Satish and the IMMUSA Board has brought in new executive team to to lead IMMUSA starting June 2017.
A street in Edison is named 'Mehtani Way' in recognition of an Indian American whose portfolio of restaurants has contributed to popularizing Indian cuisine and enriching the culture and economy of the township. As a prominent leader in the Indian community, Mr. Mehtani earned this honor by his humanitarian and civic good works on behalf of people in need around the world. Mr. Mehtani arrived in the U.S. in March 1970 from India where, as an engineer, he had won a 'Gold Medal' for the construction of an Indo-Swiss Training Centre for Council of Scientific and Industrial Research. In the first year as an agent in the insurance industry, he broke the 125 year old sales record in New York Life Insurance Company. After that he ventured into the hospitality industry with his wife, Sneh Mehtani, and opened a chain of eleven (11) fine-dining Indian and pan-Asian restaurants in New York, New Jersey and St. Thomas, US Virgin Islands. US Congress majority leader Dick Gephardt saluted Satish Mehtani for his humanitarian missions around the world.
In 2008, he launched Edison Day Care Center in partnership with Dr. Patel to provide relief and comfort to seniors, the most vulnerable segment of our society. In 1991, Mr. Mehtani provided humanitarian disaster relief on a major scale in Kuwait, earning the praise of the Kuwaiti royal family. Following September 11th, his staff made 10,000 meals for rescue workers and set up the food distribution on the site. In 1992, Mr. Mehtani was appointed as co-chairman of the National Finance Committee by President Bill Clinton, becoming the first Asian American to hold this vital position. After the tsunami and earthquake in Japan, he and his associate Gita Patel distributed thousands of CDs of healing music to help victims of trauma and depression.
"I have done my best to help the needy in the community where I live and work," says Mr. Mehtani. He arrived in the US in 1970 as a civil engineer from New Delhi, but found himself working two non-engineering jobs — as a bank teller and a retailer. In a multifaceted career, he has cobbled together an empire of eight restaurants and has become something of a political rainmaker, raising $2 million altogether for Bill Clinton, Bill Bradley and others.
VICE PRESIDENT OF COMMUNICATIONS AND MEMBER OF EXECUTIVE BOARD
Reshav (Ray) Mehtani, is the grandson of IMMUSA's founder, Mr. Satish Mehtani. Ray is currently attending the Arizona School of Dentistry & Oral Health, obtaining his D.M.D (Doctor of Medicine in Dentistry) degree. He graduated from The Miller School of Medicine at the University of Miami in 2019, obtaining his Masters degree in Biomedical Sciences. Additionally, he graduated undergrad from the University of Miami in the Spring of 2018 with a Bachelor of Science degree in Biology and Chemistry. Ray hopes to pursue a career in Oral & Maxillofacial Surgery following his dental training. Ray currently holds the title of Vice President of Communications. In December of 2017, Ray became the youngest member to have been voted into the Board of Trustees, and in December of 2018, following his successful fundraising for hurricanes Irma and Florence, the youngest member of the Executive Board.
PRESIDENT AND MEMBER OF EXECUTIVE BOARD
Sandeep has spent almost 30 years in IT industry, last 15+ years as an executive. Additionally he has been involved in non-profit, community and volunteer activities over the last 20 years: IMMUSA, Edison, NJ as a volunteer; Member, Board of Trustees, Rensselaer Alumni Association (RAA), Rensselaer Polytechnic Institute, Troy, NY; reelected to Democratic party's County Committeewoman position for one of Edison's Districts, NJ; Co-founder, Rensselaer Alumni Network (RAN), Rensselaer Polytechnic Institute, Troy, NY; Volunteer Soccer Coach, Boys Team, Edison United Soccer Association, Edison, NJ.
Sandeep has a B.S. in Mechanical Engineering (Computer Science Minor) from Arizona State University, Tempe, Arizona, and a M.S. in Mechanical Engineering from Rensselaer Polytechnic Institute, Troy, New York, and has spent one year developing a Business Plan for NYU Business Plan Competition for a startup under guidance from NYU Stern School of business MBA professors. Sandeep started his career at IBM Corporation and has subsequently worked at AT&T Bell Labs, Object Design Inc. (a startup then went Public), Point Zero Solutions (Sandeep's startup), ProViz, Inc. (Sandeep's startup), R Square, Inc. (led and managed an IT company as President and CEO with annual revenues reaching $18M), Innovenshuns LLC (Sandeep's current technology company).
VICE PRESIDENT OF FINANCE AND MEMBER OF EXECUTIVE BOARD
Originating from New Delhi, India, Seema Jagtiani completed High School in New Delhi, India. She then moved to Spain where she completed her higher college education in Finance and Computer Sciences. She managed a wholesale and retail business in Perfume industry for over 5 years in Spain. She moved to the United States in 1996 and joined Bank of America (Fleet Bank) as a customer service rep. for individual banking department and steadily moved up to the position of AVP as a Premier Client Manager with her hard work and ability to adapt and enhance her knowledge and expertise in the finance industry. She won various prestigious awards year after year in the million dollar club. She then joined Wachovia Bank as a Platform banker, helping individual and commercial customers with their banking, lending and investment needs. Moving up to a VP position she attained various awards and certificates for her superior performance in financial sales. Her next post was Sr. VP with Amogh Associates LLC., as a partner to Col. Virendra Tavathia Seema continued to guide and advice people in Individual and Commercial financial and insurance fields. Excelling in various financial planning stages of their lives, be it college, retirement or estate planning.
In June of 2013, Seema stepped up as a President of Amogh Agency, acquiring Farmers Insurance Retail Agency, a very successful insurance company from the west coast to the Northeast. Winning the prestigious Blue Vase award in her first year and achieving the Toppers Club Award every year thereafter she continues to do what she is best at, providing Financial and Insurance solutions in a very creative and cost efficient manner. Seema has held a very important role in the community, mentoring college interns who have ended up procuring high value jobs in the Finance industry. She is well known for her mentoring and guidance towards women empowerment and takes very active part in various organizations. She has been a director on the Edison Chamber of Commerce board since the last 4 years and this year has been nominated as the President of SACO (South Asian Community Outreach). Seema is one of the Founding members of Shraddha Foundation, an organization created to help the children and widows of Fallen Soldiers of Indian Defense Forces of below Hawaldar level. Their goal is to provide education to the children up to the age of 18 and give career counselling to the widows.
MEMBER, BOARD OF TRUSTEES
Desh Bharara has been involved with IMMUSA for longtime and has committed to be on the board. Desh was born in Rawalpindi (British India) and migrated to Indian side after Partition (1947). Desh married Jagdish Bharara in 1965 and then migrated with her husband to USA in 1970.
Desh is the founding member and Past President of Jersey Shore Club of India. She is also the Former Trustee of Monmouth Council of Girl Scouts; Former Treasurer of AIACJ. She is an ultimate optimist believing in possibilities about what can be.
MEMBER, BOARD OF TRUSTEES
Dr. Jagdish Bharara, MD, has been a longtime supporter of IMMUSA and recently he has accepted the position of Vice President at IMMUSA. Dr. Bharara was born in Rawalpindi (British India) and migrated to Indian side after partition of India in 1947. He graduated from medical college Amritsar, Punjab in 1961 and has practiced medicine in India for 7 years before migrating to USA in 1970. Dr. Bharara is board certified in Pediatrics and fellow of American Academy of Pediatrics. He has practiced Pediatrics for over 40 years before retiring in 2014.
Dr. Bharara is the former Co-Director of Child Evaluation Center and Coordinator of Pediatric after hours at Monmouth Medical Center. Other positions held by Dr. Bharara are: Past President AMDAANA, Past President AIACJ, Patron Member AAPI, Past Trustee MOCAAPI, Past Trustee and Vice President Ranney School of Trustees, Former Clinical Assistance Professor Pediatrics Hahneman Medical School, Philadelphia, Former Advisor of Health Start, Emeritus Attending Pediatrics Monmouth Medical Center and Jersey Shore University Medical Center.
MEMBER, BOARD OF TRUSTEES
Mr. Ajay Gupta was born in India. He graduated from Delhi University, India, in 1973. He migrated to USA in 1976 and started his own business in 1979, Nandansons International Inc. He married Nutan Gupta in 1980 and with her has raised a family with 4 Children and 2 Grandchildren.
Among his accomplishments are having founded and still managing a successful family-owned and operated business deemed to be a leader in the distribution of prestige fragrances. The company with almost four decades of experience engages is worldwide trade and brand management. His skills include developing business strategy, leadership, efficiency improvement, planning, and business development. The Gupta family is unique because they all work jointly in different functions to promote the best values of the family through their business. In addition to core business, the family has various and growing investments in real estate and financial assets with a conservative outlook for long term appreciation of assets.
In 2010 he founded Nandansons Charitable Foundation to pursue philanthropic interests. The guiding principles of the foundation are driven by the interests and passions of the Gupta family. The foundation will not accept any outside donations. The purpose of the foundation is to increase the opportunity and equity for those most in need, support education, science and technology which have the greatest potential to improves lives around the world, support religious devotion, and support Humanitarian causes, not political ones. The Foundation has cooperated with many charitable organizations over the years. Some significant donations have been made to JKF Hospital Foundation for their Emergency department. Robert Wood Johnson Hospital for specialized equipment that has saved lives. The Water Project bringing water to communities in Africa, improving and benefiting people in rural communities. Ekal Vidyalaya Foundation helping children in rural communities get access to education to improve their future.
Mr. Ajay Gupta is a founding member and on the Board of Trustees of Durga Mandir in Princeton NJ. He is a Board Member at the Hindu Center in Queens, New York. "Honesty, Integrity, Responsiveness and Attention to detail are the cornerstone of everything we do" is a credo the Gupta family lives by.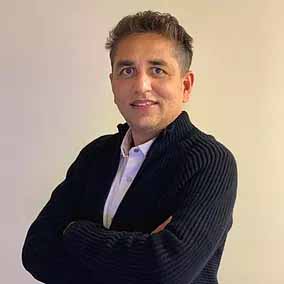 MEMBER, BOARD OF TRUSTEES
"A dream doesn't become reality through magic, it takes sweat, hard work and determination."
Those words by Manjit Batra describe the journey from his humble beginnings to where he is today.
Manjit Batra is currently the Managing Director and Founder of MB Fragrances and has over 20 years of experience in the fragrance and beauty industry. Experienced in Sales, Marketing, and General Management, Manjit has transformed MB Fragrances to become one of the most reputed fragrance distribution companies in the US. Manjit also has an established real-estate business that includes a portfolio of iconic real-estate properties throughout New Jersey. Mr. Batra knows the importance of leading a balanced life with his work, family and community obligations. He has always felt that giving back is among the most important and valuable things an entrepreneur can do.
MEMBER, BOARD OF TRUSTEES
Honorable Ajay Patil is Council President of Edison Township, New Jersey. Ajay is currently working as a Director of Information Technology at Metlife. Ajay Patil, and his wife Anu, are parents of two young children.
He is also:
- Edison Environmental Commission; member
- Edison Hollow South Homeowners Association; former trustee
- Project Management Institute, N.J. Chapter; member
- Active in various South Asian-American organizations
- Bachelor's degree in Mechanical Engineering
- Post-graduate degrees in Industrial Engineering and Management
MEMBER, BOARD OF TRUSTEES
Dr. Bhudev Sharma, MD, FACC, is President of the JFK ACO and also serves on the Medical Executive Committee of JFK Medical Center. Dr. Sharma has board certifications from: American Board of Internal Medicine, American Board of Cardiovascular Diseases, and Board of Nuclear Cardiology. Dr. Sharma is the Clinical Assistant Professor of Medicine and Cardiovascular diseases, UMDNJ.
Dr. Sharma holds several positions and memberships, which are:
- Chairman of Department of Medicine at JFK Medical Center
- Chief, Division of Cardiology at JFK Medical Center
- President of Medical/Dental Staff at JFK Medical Center
- Member of Middlesex County Medical Society
- Member of New Jersey Medical Society
- Member of American College of Physicians
- Fellow of American College of Cardiology
Dr. Sharma has made intramural presentations at:
- Lectures at Internal Medicine Department meetings at JFK Medical Center
- Teaching students on telemetry at St. Peter's Medical Center, New Brunswick, NJ
- Lectures and Family Practice students at JFK Medical Center
- Lectures sponsored by Drug Companies to Community Physicians
- Lectures to community in Acute Myocardial Infarctions
Dr. Sharma is interested in actively practicing non-invasive Cardiology, including stress testing, echocardiography and Holter monitoring, performing echo interprets at JFK Medical Center and also reading EKGs. He is actively involved in cardiac catheterizations and digital angiography at Diagnostic Vascular Imaging Center in Edison, NJ. He works in Edison, NJ and is affiliated with John F Kennedy Johnson Rehabilitation Institute, John F Kennedy Medical Center, Robert Wood Johnson University Hospital and Saint Peters University Hospital.
Dr. Sharma graduated from the All India Institute of Medical Sciences (AIIMS), Ansari Nagar, New Delhi, India in 1975.
MEMBER, BOARD OF TRUSTEES
Bharati has been supporting IMMUSA for several years along with her husband, Dr. Bhudev Sharma, an executive (Vice President of Planning) and active member of IMMUSA Board. Bharati will continue to guide the IMMUSA executive team pursuing various disaster relief activities. She has joined the IMMUSA Board in December 2017.
MEMBER, BOARD OF TRUSTEES
Shailja has almost 30 years of professional experience working in software and hardware technology industry. Shailja started her career in Telecom industry as an engineer, starting at AT&T then at Lucent and then Avaya. She left Avaya to explore a career in Legal industry but after a short stint came back to technology industry. Currently she works at a software technology startup, Index Engines Inc., as an engineer combining her engineering and legal skills to develop technology solutions for eDiscovery area. Shailja has been reelected to Democratic party's County Committeewoman position for one of Edison's Districts, NJ.
Shailja has a BS in Electrical Engineering from Rutgers University and then she completed a course in Paralegal studies from Fairleigh Dickinson University, NJ. Shailja interned at Greenbaum Rowe Smith and Davis LLP, Edison, NJ followed by a Senior Paralegal role at Corodemum & Corodemus, Woordbridge, NJ.
MEMBER, BOARD OF TRUSTEES
Bhushan Sondhi was born in Varanasi India. He marries Sudha Bhandari in 1981 and then he and his family migrated to USA in 1983.
He has a Master in Economics and a Law degree from India. Bhushan was employed in Engineering industry in India and was promoted to Partner level. He was the General Manager of local McDonald's and Wendy's. Bhushan joined MetLife Insurance company in 1989 advising clients about securities and insurance related matters. Presently he is working with Mass Mutual insurance after operations of MetLife and Mass Mutual were merged.